What Every Driver Needs to Know About Auto Insurance Laws in Texas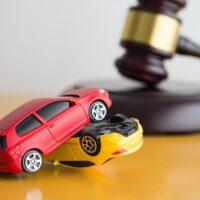 Texas follows a "fault" insurance model, meaning drivers are financially responsible for any accidents they cause, unlike no-fault states, where drivers typically file a claim with their insurance provider regardless of who caused the accident. As a result, all Texas drivers must carry liability insurance to cover potential damages and medical expenses in accidents for which they are at fault. Learn more below about the ins and outs of Texas auto insurance laws, and contact McLemore, Reddell, & Story, P.L.L.C., if you've been hurt in a car accident in Houston and need help pursuing a claim for maximum compensation.
Texas Requires Auto Liability Insurance
Auto insurance is mandatory in the Lone Star State. Texas law requires that drivers show proof of insurance to cover any accidents they may cause. Failure to maintain liability insurance can result in hefty fines and may result in the suspension of your driver's license.
In Texas, drivers must maintain a specific level of minimum liability insurance, commonly known as 30/60/25 coverage. Each policy must include at least $30,000 in coverage for individual injuries, up to $60,000 for all injuries sustained in a single accident, and $25,000 to cover property damage.
Although carrying liability coverage is a legal requirement in Texas, drivers can enhance their protection with additional types of coverage. Collision coverage is available to cover the costs of repairing or replacing your vehicle following an accident. Additionally, comprehensive coverage offers financial protection against damages incurred from non-collision events, such as theft, fire, or vandalism.
Consumer Rights and Protections
Texas has a Consumer Bill of Rights for auto insurance. Your insurance company must provide a copy when you purchase or renew a policy. This document outlines your rights and responsibilities, ensuring you know where you stand with your insurer.
Uninsured and Underinsured Motorist Coverage
It's an unfortunate reality that only some people on the road have insurance or sufficient coverage. Uninsured/underinsured motorist coverage can protect you in scenarios involving an auto accident with an uninsured or underinsured driver. This coverage is so crucial that insurance companies must offer it to you. You must decline it in writing if you decide it's not for you.
Additional Features
Some policies offer extra features like towing and labor coverage, which pays to tow your car if it's undrivable, and rental reimbursement coverage, which pays for a rental car while yours is being repaired.
Contact McLemore, Reddell, & Story, P.L.L.C.
Auto insurance is more than just a legal requirement in Texas—it's a financial safety net that can save you from devastating costs and legal complications. Understanding your options and rights allows you to make informed decisions that offer you the best protection possible.
Remember, the cheapest policy is not always the best policy. Take the time to understand what each type of coverage offers and consider going beyond the minimum requirements to ensure you're fully protected on the road.
If you or someone you know has been involved in a car accident in Houston, it is essential to consult with an experienced personal injury law firm that can help you understand your potential claims and damages and help you get the compensation you need. Call McLemore, Reddell, & Story, P.L.L.C., at 713-303-8543 to get started today with a free consultation.